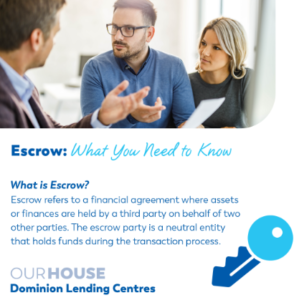 Let's talk about escrow! While this arrangement may not necessarily impact your mortgage, it can be helpful to understand should anything come up throughout your term.
What is Escrow
Starting with the basics, what IS escrow exactly?
Escrow refers to a financial agreement where assets or finances are held by a third party on behalf of two other parties (such as a homeowner and bank). The escrow party is a neutral entity that holds funds during the transaction process.
Homebuyer's Escrow
Most of you will likely be familiar with this from a real estate and notary perspective, which is known as a homebuyer escrow. This is when you sell or purchase a home, your money is transferred to the notary for processing property transfer taxes, existing overdue payments, real estate fees, etc. Once they have processed it and the transaction is completed, the remaining funds then get deposited to you and your mortgage begins.
Escrow is also the instance where you put a deposit down on a property and the cheque or deposit is held until the transaction is completed.
Homeowner's Escrow
There is also another escrow known as homeowner escrow. This is slightly different from your homebuyer's escrow whereby the agreement ends when the sale is closed. For homeowner escrow, the account is designed as a holding area for funds to pay off various property-related costs, such as:
Homeowners insurance premiums
Private mortgage insurance (PMI) premiums
Flood or wildfire insurance premiums
Property taxes
Homeowners may choose to have their funds in escrow for these expenses to avoid missing any payments. Lenders would generally collect these expenses as part of the borrower's monthly mortgage payment.
Benefits of Escrow
There are a variety of different benefits for using an escrow depending on whether you are a buyer, seller or lender including:
Buyers:

Buyer may get their earnest money back if a sale falls through.

Earnest money is often applied to down payment or closing costs.

Mortgage escrows break insurance premiums and property taxes into monthly payments.

A lender manages the mortgage escrow account on the homeowner's behalf.

Sellers:

Escrow ensures that a property doesn't change hands before the sale is complete.

If the buyer doesn't uphold the purchase agreement, the seller could keep the earnest money.

Lenders:

Can ensure payments are made on time and reduce lending risks.

Managing the account can help avoid late fees or liens against the property.
Drawbacks of Escrow
As with any potential agreement, there can be drawbacks to escrow that are important to consider and understand before you jump in. These disadvantages include:
Setting up your escrow account may require an upfront deposit.
You may be charged additional fees for escrow services.
Insurance premiums or property tax increases could affect monthly mortgage payments.
Moving your money into escrow can limit the amount of cash flow on hand.
If you are looking at buying or selling in the future, don't hesitate to reach out to me to determine how escrow could affect the process and your mortgage agreement! I'd be more than happy to review your situation and recommend the best course of action before you move ahead.
Written by DLC Marketing Team